SINGLE SPEEDS!
Single Speeds are a breed of kick ass mostly rigid bikes that take you back to the days of no extra gears, suspension.....

I started using a Truvativ Hussefelt chain guide as a tensioner after breaking off my rear dropout and it works WAAY better than the Surly Singleator ever did. I highly recommend that chain guide. It costs the same as a Singleator and it could also be used aith a 1x7, 1x8, 1x9 or whatever kind of single chainring system you may want to use in the future. My single speed is almost 2 years old now! Its my favorite XC bike. Having one gear forces you to stand and crank every hill. I recommend a stiff frame, the stiffest handlebar and stem you can find and some stiff cranks. Since you will be standing a cranking a lot, a strong bar and stem are necessary to transmit the power of your arms as you pull up to torque the cranks. The strong cranks are necessary considering you have no torque multiplying through the gears like you would on a geared bike. Therefore, you are transmitting much more torque through the crank arms and the drivetrain.

When I first built this bike, it was to be the cheapest bike I could build to ride to class on. The previous year, my ride to class bike was stolen. I bought this frame from Cannondale with a rigid fork for $55! What a deal. The bike has never had more than 1 gear. After bending the rigid fork,I replaced it with the Bomber Z4. It took a while, but I finally got ballsy and started doing drop offs on some large ledges and stairs on campus. A flat landing off a 3 foot drop toasted the fork.

One day I decided to try the single speed on a real mountain bike trail and man, it was a sweet ride! You are forced to stand and crank every big climb. I find it easier to do on this bike than on a geared bike. Now, its my only XC specific bike, although its great for light urban assault, dirt jumping and trials. I just rode a 90 mile trip to Lake Michigan and back this week on it too. Im running a 2:1 ratio right now with a 36/18 gear set. Im thinking of racing single speed class in an upcoming race.

Geared bikes are great too, but the single speed just has a totally different and great type of ride.

In May 2003, I retired to old Cannondale and bought a new Cannondale 1FG Headshok.
See it at: Mike's Cannondale 1FG WHAT A SWEET BIKE!!!

The old Marzocchi Z.4 sold on eBay in March 2005. It was sitting around my garage for almost two years. The old CAAD1 frame is still in my garage, as a trophy for the great riding it provided me.

Here is Mike's Single before building:


Just after building:



                 Cannondale CAAD1 Frame
                 Marzocchi Bomber Z4-sweet! 65mm
                 Shimano LX Front Hub
                 Shimano 16t/ACS 18t Freewheel
                 Race Face Taperlock Bottom Bracket
                 Race Face North Shore Cranks
                 Surly 1 X 1 Single Speed Rear Hub
                 Truvativ Hussefelt Chain Guide/Tensioner
                 Shimano IG90 Chain
                 Onza Porcupine Tire Rear
                 Panaracer Duster Front Tire
                 Onza Buzzsaw 36T sprocket
                 Club Roost 30mm Rise Bars
                 Race Face SYStem Stem
                 Race Face Grips
                 Avid 1.0L Brake Levers
                 Avid 10 V-Brake Rear
                 Shimano XTR Front V Brake 
                 Jagwire Coated Cables
                 Bontrager Maverick Rims
                 GT Cro-Moly Seat
                 DT Competition Spokes, w/ SpokePrep
                 S&M Platform Pedals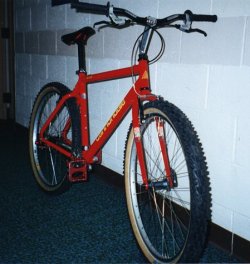 Original Setup

After Destroying the C-Dale Frame...


And now with the Truvativ tensioner...
2003 Cannondale 1FG is now the single speed of choice.